Temperature loggers are like simple probe thermometers, but they take and save the readings on their inbuilt memory.  The whole time-series of readings can then be recovered later, usually by using a serial interface that connects to a PC computer.
Check out our Data Loggers Fact Sheet for more info on how data loggers can help you.
LogTag Data Loggers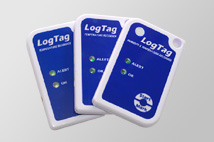 One of the fastest and easiest data loggers to download on the market! LogTag products are designed to meet the growing demand for cost effective electronic environmental recording solutions.
LogTag Software

Companion software for the LogTag range of data loggers. LogTag Analyzer software provides an easy to use powerful platform for configuring any LogTag recorder product before deployment and for data analysis when the recorder is retrieved.